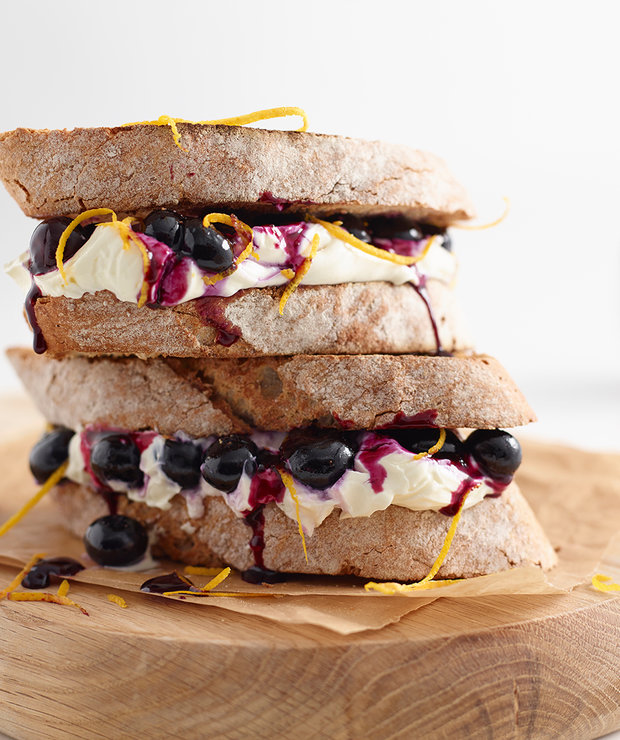 Go back to all recipes
Ingredients
6 thick slices of seeded bread
2 eggs
1 tablespoon milk or cream
1 teaspoon vanilla
butter, for frying
1 pack of cream cheese softened
1½ tablespoons icing sugar
200 grams blueberries
Method
1. In a shallow bowl, beat eggs. Stir in milk and vanilla.
2. Soak 1 piece of bread in egg mixture for 1-2 minutes, then flip to soak the other side for an additional 1 minute.
3. Melt butter in a large skillet over medium heat. Once butter is melted, fry egg-soaked bread until browned, about 2-3 minutes per side. Remove from skillet, and drain on paper towel.
4. Repeat steps 2 and 3 until all bread is cooked. Make additional egg mixture if needed.
5. In bowl, stir together cream cheese and icing sugar.
6. Spread cream cheese mixture on all 6 french toast slices. Spoon blueberries over cream cheese on 3 slices. Cover with remaining slices.
7. To serve, place sandwiches on plates and slice diagonally or in half. Garnish with additional blueberries and powdered sugar.
Go back to all recipes