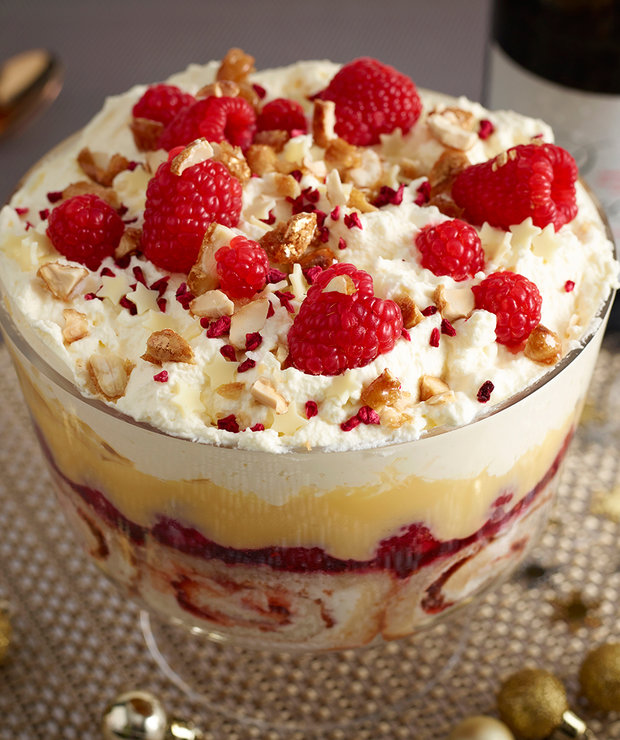 Go back to all recipes
Ingredients
Swiss roll
3 tbsp raspberry jam
3 tbsp Amaretto
2x 225g packs raspberries
150g mascarpone
1x 500g carton fresh custard
400ml whipping cream
1 tbsp freeze-dried raspberry pieces
½ tbsp white chocolate stars
50g blanched almonds
50g caster sugar
¼ Maldon sea salt
1 tsp butter
Method
1. Cut the swiss roll into 1" thick pieces and pack into the base of a 2 litre serving bowl; drizzle with the Amaretto. Scatter in the raspberries.
2. Tip the mascarpone into a mixing bowl and gradually beat in the custard. Spoon over the raspberries.
3. Whip the cream to soft peaks; spread thickly over the custard, swirling the top. Cover; chill for at least 4 hours, or overnight.
4. For the caramelised almonds, place the almonds, sugar, salt and 2 tsp cold water in a frying pan and mix together. Cook over a medium heat for 6-8 minutes, shaking the pan frequently, until the sugar has dissolved and turned into a golden brown caramel around the nuts. Take the pan off the heat and add the butter. Stir to coat the almonds evenly in the caramel then pour out onto a piece of baking paper and leave to set.
5. When ready to serve, roughly chop the caramelised almonds and scatter on top of the trifle along with the freeze-dried raspberry pieces and white chocolate stars.
Go back to all recipes