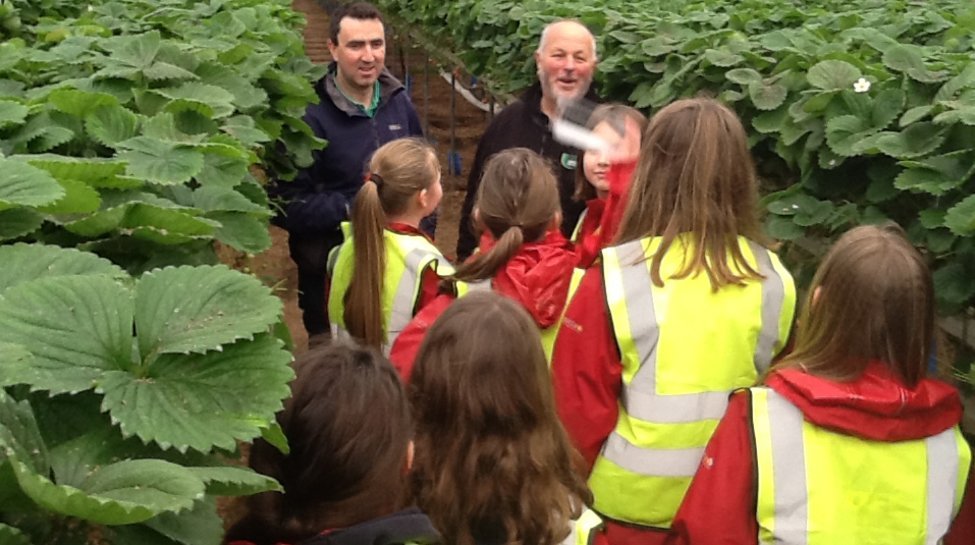 A few weeks ago we hosted a visit by a group of Year 6 pupils from Madley Primary School.  This is the fifth year that S&A has supported the school with their business enterprise project and each year, a group of pupils come and spend the day at Brook Farm. Their visit is to allow them to experience different areas of work and jobs within one company. The children get first-hand experience of how a company operates and how each department works with one another, to contribute to the day to day running of the business.
The children are in teams within their class at school and each team has developed its own 'mock' business. Each team will have a product that the children have to design, produce, market and sell, hopefully for a profit! The teams also visit local events and venues to try and sell their products, as well as using the school Christmas Bazaar to help them increase their profits.  
When the children come here to Marden, we always take them on a complete journey of soft fruit production, from our growing and packing operations through to our Commercial and Human Resources departments.  This gives the children a valuable insight into how a business operates and the importance of each individual function to contribute to the bigger picture.  
Aside of the business aspect, the pupils did also enjoy an opportunity to taste some delicious late season strawberries, together with trying their hands at a dexterity test which seasonal workers have to sit, in order to test their ability for picking fruit. As well as it being an enjoyable trip for the children, we also believe that it helps to inspire them for the future; the more knowledge and understanding they have access to, the better and more informed decisions they can make in the future. S&A is excited to be a part of a local initiative such as this; the innovation and future of our company will depend on the younger generation in years to come. 
Thank you to Madley Primary school for your visit - we hope you enjoyed it as much as we did. We wish you all the best with your enterprise projects!