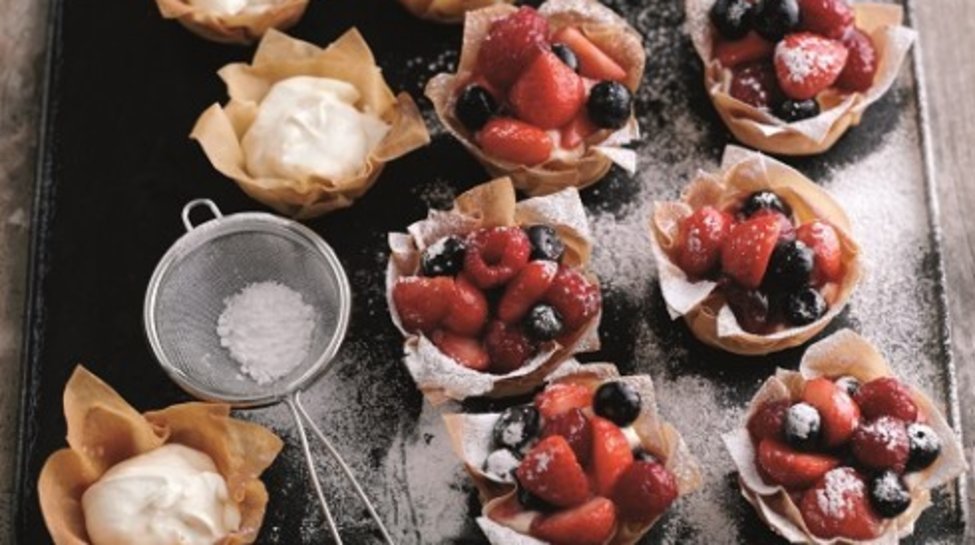 A healthier alternative to the little chocolate cupcakes, so why not get the kids to help make these extra-fruity alternatives. There's no pastry to make, just cut out squares of ready rolled filo, bake and fill with custard and glazed red berries.
Makes 12
Preparation time: 30 minutes
Cooking time: 10 minutes
50 g (2 oz) butter
270g pack of 6 frozen filo pastry sheets (defrosted) – use 3 sheets (each 46 x 21.5 cm)
150 ml (¼ pint) double cream
400 g (14 oz) can low fat readymade custard
½ orange, grated rind and 1 tablespoon juice
450 g (1 lb) mixed berries (whole raspberries and blueberries and strawberries, halved or quartered)
3 tablespoons strawberry jam
Icing sugar (sifted) to decorate
1)    Warm the butter in a small saucepan until melted and use a little to grace a twelve section deep muffin tin. Separate the pastry sheets, brush each one with a little butter then cut into twelve rectangles.
2)    Lay one piece in each section the muffin tin then arrange a second and third square at a slight angle to the previous one to give a jagged nest-like effect.
3)    Bake at 180°C / 350 °F / Gas mark 4 for 6-8 minutes until golden and crisp. Leave in the tin to cool.
4)    Take the pastry cases carefully out of the tin and arrange on a large serving plate. Whip the cream until it forms soft swirls then fold in the custard and orange rind. Spoon into the pastry cases.
5)    Warm the jam and orange juice in a small saucepan, stirring until the jam has melted. Add the berries, coat in the jam glaze then spoon into the tarts. Dust the top edges of the pastry with a little sifted icing sugar and serve.