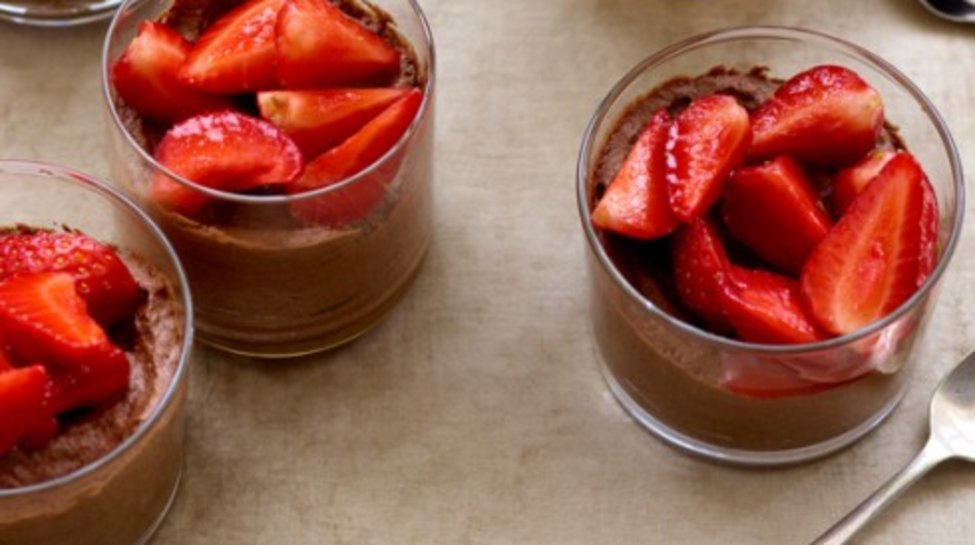 The strawberries take on a great colour and increased flavour mixed with a little lemon juice.  Use them to top this beautifully soft and yet really chocolatey vegan mousse for a special dessert
Serves 4-6 (see tip)
Prep time 15 minutes plus chilling
100g dark chocolate (vegan), roughly chopped
400g can chick peas
½ tsp white wine vinegar
2 tbsp icing sugar plus 1 tsp
250g strawberries
1 tsp lemon juice
6 mint leaves plus extra
1.   Melt the chocolate in the microwave or in a bowl over a pan of simmering water and set aside.
2.   Drain the chickpeas over a large bowl – it's the water (aquafaba) you want; use the chickpeas for another recipe.  Use an electric whish to whisk the aquafaba until thick and holding its shape, whisk in the vinegar and continue whisking for a minute whilst the volume increases.  Gradually whisk in the 2 tbsp icing sugar and continue whisking for another minute. Gently fold through the chocolate and mint until well combined and smooth. Spoon into 4-6 serving dishes. Chill for an hour or so until just set.
3.   Hull and roughly chop the strawberries, mix with the lemon juice and a tsp of icing and set aside until needed.  To serve spoon the strawberries on top of the mousse.
Tip
This recipe serves 4 generously but is quite rich so a small portion would serve 6 adequately.