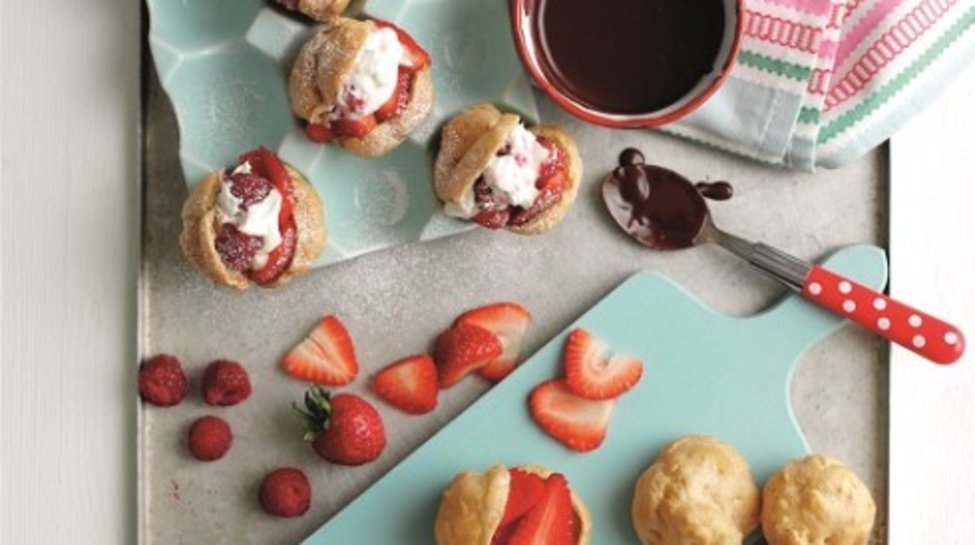 Twist on a classic favourite
Everyone loves profiteroles but why not try adding a little summery fruity freshness with sliced strawberries and crumbled raspberry cream then drizzle with warm chocolate sauce or a fresh berry sauce – see Cook's Tip.
Serves 4
Preparation time: 35 minutes
Cooking time: 15-18 minutes
Profiteroles
150ml (¼ pint) water
50g (2oz) butter
65g (2½ oz) plain flour
2 medium eggs
½ tsp vanilla essence
Sauce
150g (5oz) dark chocolate, broken into pieces
150ml (¼ pint) semi skimmed milk
2 tbsp icing sugar
½ tsp vanilla essence
Filling
150ml (¼ pint) double cream
100g (4oz) 0% fat plain Greek yoghurt
½ tsp vanilla essence
2 tbsp icing sugar, plus a little extra to decorate
150g (5oz) raspberries
225g (8oz) strawberries, hulled, sliced
1      Preheat the oven to 200oC (400oF), Gas Mark 6. Lightly grease a large baking sheet.
2      Pour the water into a saucepan, add the butter then heat gently until the butter has just melted. Bring to the boil then take off the heat and sift in the flour. Mix together then put the pan back on the heat and cook, stirring, until the mixture makes a smooth ball. Leave to cool for 15 minutes.
3      Beat the eggs with the vanilla then gradually beat into the cooled choux pastry in the pan, or transfer to a food processor if you'd rather. Beat until really smooth then spoon into a large piping bag fitted with a 1.5cm (3/4 inch) plain piping tube. Pipe about 20 balls on to the greased baking sheet, leaving space between them.
4      Bake for 15-18 minutes until well risen and golden. Make a slit in the side of each choux puff to let the steam escape then put back into the turned-off oven for 3- 5 minutes until crisp then take out and leave to cool.
5      To make the sauce, add the chocolate, milk and sugar to a small saucepan and heat gently, stirring occasionally until the chocolate has melted and the sauce is smooth. Stir in the vanilla. Sprinkle surface with a little caster sugar if not serving immediately so that a skin doesn't form. 
6      Whip the cream until it forms soft swirls then fold in the yoghurt, vanilla and sugar. Crumble in the raspberries and briefly fold together.
7      Slit the choux puffs almost in half, arrange the sliced strawberries over the base of each one then top with a spoonful of raspberry cream. Press the lids back in place then arrange on serving plates. Dust lightly with sifted icing sugar and serve drizzled with warm chocolate sauce.
Cook's tip
The cooked choux puffs can be made the day before and kept in an airtight tin then fill and serve with sauce when you need them.
Cook's tip
For kids or adults who don't like dark chocolate then use half dark and half milk chocolate for a lighter tasting sauce or why not drizzle with an easy berry sauce made by pureeing 225g (8oz) strawberries and 150g (5oz) raspberries pureed together then press through a sieve before serving.